"ProFlipperz" Review By SAASMantra
ProFlipperz App is an Android & IOS mobile and device application that allows you to run a profitable flipping business whilst cutting out the middle man. It's both a barcode scanner that brings up Google Results for the item + Takes the information on autopilot and enters it into the system with images… Ready to sell!
ProFlipperz is a multi-site lister tool that allows you to post directly to eBay, Etsy, Shopify & WooCommerce, + Facebook / Twitter / Instagram & TikTok & More. You also get a task scheduler & many other features. The objective of ProFlipperz is to have all the tools you need in one place to make it easier/faster to buy & sell products instead of having to switch through multiple apps.
Increase Your Profit With Instant Product Research & Automated Listings To All Major Marketplaces In 4 Simple Steps
Scan Any Barcode & Get Instant Google Search Results For The Product
Auto-Create A Product Listing
List Item on Etsy eBay Shopify, Woocommerce & Bonanza
Here Are Some Of The Tools That You Get Inside ProFlipperz To Make Product Flipping Easier
Post on Social Media
Ability to post To Tiktok, Facebook, Instagram, Twitter, And Advertise To Your Social Audience To Drive Free Social Traffic. 
Shippo Integrated
You'll Even Save On Your Shipping! The Platform is Integrated With Shippo To Cut Delivery Costs.
Tools: Calculator, Torch and Calendar Reminders
Calculator And Torch To Calculate Your Profits On The Fly And Calendar Reminders So You Don't Miss Sales Or Collections.
Secure Cloud Based Accounts
YourProFlipperz Accounts Are Cloud-Based, Securely Stored Online So If You Lost Or Changed Your Device You'll Never Lose Your Work!
Who Is ProFlipperz Useful For?
Local Businesses & Freelancers
Affiliate Marketers & eCom Marketers
Website Owners & Bloggers
Email Marketers & Small Businesses
Traffic & Lead Generation Experts
Physical Product Owners & Product Flippers
Here's What The Early Users Are Saying About ProFlipperz
With ProFlipperz I enjoy the hassle-free ease of the app, being able to scan and list my items in seconds is a huge win! With the information and contacts provided by the team, the training & resources I'm able to flip anything from clothing to garden items!
I flip with my mum & my brother's girlfriend.  It gives us something to do together whilst making money and having fun! Being a teacher, I also have a passion for books!  I'm given books and have my own section where I sell books for anywhere from $15 up to over $150+
I flip in my spare time as it helps bring in more of an income whilst I am at home as I have a baby.
I find it easy to flip as it works around me and my busy schedule, between looking after my little one and working in a clothing store part time.
I enjoy it and it helps pay the bills! Especially when lockdown happened, and I couldn't work at all.
The really helped during the pandemic and it also gave me something to focus on that I actually enjoy.
It didn't feel like work, it felt like fun hustling!  Haha!
Craig and the team also hooked e up with a contact to take my flipping to the next level with brand new items at insanely discounted prices!!!
Thanks ProFlipperz, for the education, the support, and most importantly the app which made life so much easier when selling.
I have a flipping business that I began back in 2020 when COVID was running rampant and I wanted something to do whilst bringing in some money for things I wanted.
A side-hustle to my normal 9-5 job to supplement my income!
I sell many items in various arenas from Facebook to eBay, car boot sales to collections!
I enjoy flipping as it's easy, quick money that is actually fun to do!  If I had to list things over and over and over manually, I'd hate it!
The app really does save the hassle!  From listing items in many places to price matching and research too, it's a GEM!
My goal was to buy a motorhome to travel around the country with my partner.  I want to take this to the next level and go BIGGER now I know the true potential of flipping and the fast profits it brings.
It saves you money too!  Not just on finding things cheaper for myself and flipping, but discounted shipping is a godsend!  eBay will charge you more than they should for postages and I strongly dislike paying more than I should!
I'm always looking for a good side hustle and so glad I found ProFlipperz.
Steve, you're my hero! I've put so much cash in my pockets using your tips and methods.
You've definitely taken my hustle to a whole new level and nothing is stopping me now!
Watch A Quick Overview Of ProFlipperz
ProFlipperz – Pricing And Funnel Details
NOTE: Here are some Upgrade Details for your reference. You must buy the Front-End (FE) first and then you could buy any OTOs if you love.
If you buy OTOs alone, you will receive NOTHING and it takes your time to request for refund. Please remember FE is a must-have package to at least make sure the product is working well.
⇒ Get 10X More Monthly Credits (2500/Month).

⇒ Get This Upgrade For 10 Years.
⇒ User ProFlipperz Mobile App On 10 Devices.
⇒ Unlimited Marketplaces for 10 Years.
⇒ Premium 24×7 Live Chat Support.
This Is a Unique Course That Shows You How to Flip Products Like A Pro flipping course by Steve that sold $4M of products.

Here's What You'll learn inside this course:

⇒ Introduction – Getting Started.
⇒ Creating Accounts & Navigating Each Marketplace.
⇒ How To Start Flipping With $0 And No Automobile.
⇒ Deciding What Items To Flip And How To Find Them.
⇒ The Art Of Negotiation And Closing The Deal.
⇒ How To Sell Your Items On Each Marketplace.
⇒ Managing Your Flipping Business.
⇒ Advanced Selling.
⇒ Downsides To Flipping.
⇒ Conclusion.
Here's Exactly What You'll Get In This Upgrade:

⇒ ProFlipperz Advanced Tracking Spreadsheet 

– Don't continue to flipping products that don't bring you the kind of return YOU deserve!  This spreadsheet will make sure you're focused on the most profitable items…

Items with the highest profit and the lowest cost of your MOST valuable resource, TIME!  We even include an amazing dashboard to help you visually see where you're getting the best returns of investment.

⇒ ProFlipperz Pre-Flip Calculator

 

– Don't leave the profitability of your flipping business to chance, plug in some simple numbers about your deal into the pre-flip calculator to see exactly what opportunity you have! 

Avoid buying bad items with low margins or a low hourly rate. Increase your profitability by knowing before you buy it!

⇒ ProFlipperz Pre-Flip Checklist 

– This is the checklist we personally use to evaluate every single deal and find out whether the flip will be profitable or not… Even before investing a single dime

.
Commerce Club & Mastermind
The Live Mastermind Consists Of Two 2-Hour Sessions.

The mastermind training which is a weekly live mastermind training inside an exclusive FB group is a sure-fire way to fire up your results. FAST! The content is put into a membership area to access afterward so even if you miss it, you won't lose out.

⇒ Session 1: Introduction & Deep Dive Into Niches.
⇒ Session 2: Retail Arbitrage, Online Arbitrage, & Marketplace Capitalization.
ProFlipperz app is designed for you to skip all the hassle! From listing items in many places to price matching, research, and much more. This app isn't just an app, it's a money-making, information-getting automation tool for anyone in eCom, flipping, or people who just want to make sales of their own products at home and generate consistent profits. Get Started Now!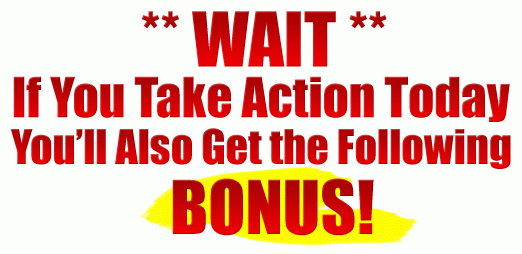 Note: Access To The Special Bonuses Will Be Delivered In Your JVZoo Portal
Bonus #1 – Access To Advanced Selling Training
This bonus will definitely point you in the right direction. Note that this training is NOT sold publicly, and there's NO other way you could get your eyes on it except by getting your hands dirty and figuring these things on your own.
But today, you are getting access to this special training for FREE with your purchase of The ProFlipperz.
Bonus #2 – Exclusive List Of Apps For Flippers
Inside this bonus, you get access to a digital list of the most powerful apps used by the expert flippers! These apps will give you an edge and place your head and shoulders above your competition!
Bonus #3 – Lifetime Access to Exclusive ProFlipperz Community Facebook Group
A place where you can learn from other members who share their flips and success stories, helping each other out!
A place where you can connect with the top deal makers in the industry, ask questions and get answers needed to grow your flippin' skills quickly!
Bonus #4 – Mobile App Marketing
Why Understanding All The Ins And Outs For Marketing Apps Is Crucial!
The internet is bombarded daily with new apps (the app is the short term for application) that are geared towards new technology, new software systems, new process systems, and new marketing tools.
They are all focused on winning market share with their new apps. This focus is driven by one main objective which is to make money or to make even more money.
Below is an overview of everything that you'll learn inside this training.
⇒ Chapter 1: The Attributes Of A Killer App.
⇒ Chapter 2: Analyze Your Competition.
⇒ Chapter 3: Know Your Targeted Customers.
⇒ Chapter 4: Pricing Your App The Right Way.
⇒ Chapter 5: Launching Strategies For Your App.
⇒ Chapter 6: Marketing Your App Via Internet And Social Media.
⇒ Chapter 7: Generating Demand For Your App.
⇒ Chapter 8: How To Get Positive Review For Your App.
⇒ Chapter 9: Announce Your App Through Press Release.
⇒ Chapter 10: Direct Marketing Strategies For Your App Launch.
Bonus #5 –  Smartphone Apps Secrets
Get All The Support And Guidance You Need To Be A Success At Dominating Apps!
A good place to get ideas on phone apps is in social forums that target mobile users and developers. Many ideas, as well as complaints, are found in these forums. The complaints from users are great in terms of feedback as they will tell you what not to do with your app.
Developers will also tell you what you should avoid when creating your app due to design complexity and programming tool restrictions. Most of these forums are free and you only need to register to participate in them.
Bonus #6 – Surefire Profit System
Earning money online is the most popular strategy marketers use to generate great income effortlessly. 
Keeping this in mind, I am providing this ultimate business automation system to create an online business for yourself, along with creating your own product and setting up your affiliate program to make cool passive money online.
Bonus #7 – One-Click Mobile Web App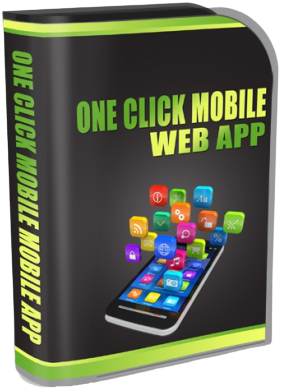 Brand New WordPress Plugin Turns Any Website Into An Web App Then Forces Your Visitor To Install Your App Onto Their iPhone!
Mobile web apps are quickly becoming the standard way to deliver content to mobile devices. 
Unlike traditional mobile sites, web apps allow visitors to install your entire website directly onto their iDevice – with it's own custom app icon on their home screen and a custom loading page start screen.
Mobile is the hottest topic in the marketing right now, and every serious entrepreneur and business owner is desperate to get in on this new gold rush!
Bonus #8 – WP Video Focus
WP Video Focus is a plugin that allows you to clip your video and serves as a widget to any corner on your page.
This allows your videos to visibly continue playing when a user scrolls down a page, so they are still able to see the video and not only hear it.
This will help to keep your viewers engaged throughout your entire video while they are exploring the content/other parts of your page so you will never lose the engagement & attention of your viewers that often results in loss of leads and sales.
The plugin will also allow you to position your videos anywhere you want and customize it to make it relevant with your website/web page design or branding.
Bonus #9 – Amazon Auto Search Plugin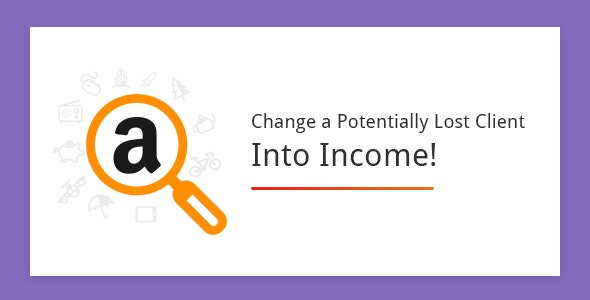 Never lose a customer again!
Automatic insertion into WooCommerce & WordPress Search when Searched Content / Products are not found! No hassle, no coding, no amazon AWS keys!
works with Amazon's Major Affiliate Programs! United Kingdom, United States, Canada, Germany, France, Spain, Italy, India, and Japan.
It also comes with Geo-Targeting! This Feature automatically detects your client's location (country) and only loads Amazon Products from the closest Amazon Website. Ex: You have a Client from Canada that Searches for "Samsung" on your Website. When he clicks on any Amazon Product, he will be redirected to Amazon.ca. Setup the default Search Category on each Amazon Affiliate Program.
Bonus #10 –  Mobile Apps Made Easy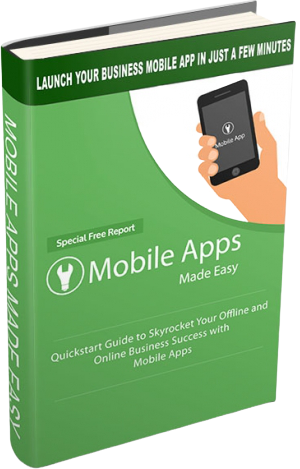 Would you like to Skyrocket your offline or online Business Success by only Creating and Launching your Business Mobile App in just a few minutes from now guarantee?
This step-by-step Mobile Apps Training System is going to take you by hand and show you how to quickly skyrocket your business success in the shortest time ever for just going mobile.
These days, the success of your online or offline business depends not only on the quality of traffic to your website and social recognition and interaction it may get in social networks, but also it largely depends on the Mobile Presence your business has, and that is a hard fact.
People check their mobile devices dozens of times a day, so it just makes good sense to get your business in on the non-stop action by Mobile Apps.