"LeadsGorilla" Review By SAASMantra
LeadsGorilla is a cloud based software that lets you to build a local agency and help businesses land more clients. With LeadsGorilla you get to search, contact & land clients who have listed their businesses on Google & Facebook. This software uses a unique & custom LeadsScore algorithm with the help of which you can see how likely you can land and make money from a particular lead.
Once you find qualified & potential leads, LeadsGorilla identifies lots of key issues with their Facebook or GMB listing & turns it into a custom report/lead magnet automatically for you to send. You can then reach out to qualified leads & land them w/ built-in email marketing tech by using the built-in proven DFY swipes in tons of local niches.
PRODUCT OVERVIEW
Product : LeadsGorilla
Niche : Software
Vendors : Ben Murray, Adrian Bogdan & Cristian Seb
Launch Date : 2020-July-15
Launch Time : 10:00 a.m EST
Front-End Price : $27 – $37
Refund Policy : 30 Days Money Back Guarantee Policy 
Support Desk : https://xmarketing360.supportbee.io/1951-help-documentation/
Checkout some Game-Changing Features Of LeadsGorilla
Get Clients from Facebook and Google
Start getting local business agency clients from Facebook or Google by just entering your niche plus any location you want. Filter out the leads to get the best results!
View Advanced Data About Each Lead Before Saving Them
View contact information, address, page rating, if their Facebook Page or Google My Business page is claimed already, how optimized it is to rank in Google, and more other leads apps can't provide. 
Custom LeadsScore Secret Algorithm Technology
Custom secret LeadsScore algorithm technology allows you to see how likely you can land and close that lead. Find the leads who have the lowest score, meaning they do not rank well on local and need the most help.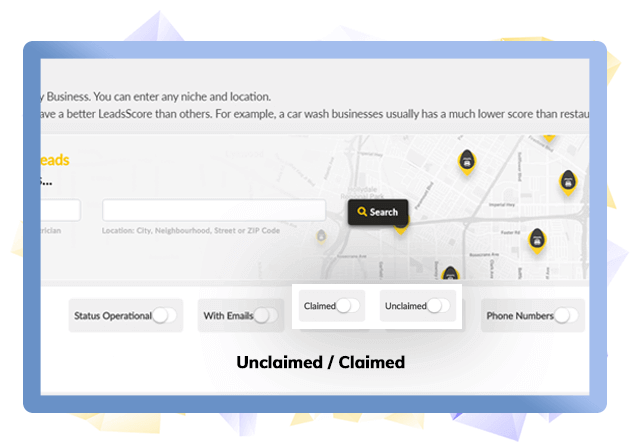 Sort By Claimed/Unclaimed Listings and Many Other Filters
Sort leads using many filter options like GMB rating, LeadsScore, number of reviews, claimed or unclaimed GMB pages, and more.
Find unclaimed GMB pages and sell them to clients for easy profit.
Generate the Most Advanced Facebook Reports
Have LeadsGorilla automatically generate a detailed report that shows how the business can improve their marketing and Fanpage that's easy to understand and very professional.
Generate The Most Advanced GMB Reports
LeadsGorilla can also automatically generate a detailed report that shows how the business can improve their marketing and Google My Business. Use this as a lead magnet to land a meeting with them.
Download PrintReady PDF Reports For Leads
These reports are state-of-the-art and can even be printed on-demand if you want to meet with the client in person or send the report in the mail. These reports will give you instant authority! 
Organize Campaigns and Manage Leads
Create specific campaigns like 'Dentists in Florida' and add any specific leads you want to each campaign. Keep everything perfectly organized and each lead updated throughout the onboarding process.
Email Technology Swipes and Placeholders Automation
Have LeadsGorilla reach out to the clients you want via email marketing technology. You can customize the email and use our DFY proven-to-convert templates in many niches. You can also use the vendors placeholders.
Who Is LeadsGorilla Useful For?
Local Businesses & Lead Generation Experts
Affiliate Marketers & List Builders
Email Marketers & Freelancers
SEO Experts & Small Businesses
Marketing Agencies & Product Vendors
Checkout What Some Of The Early Users Are Saying About LeadsGorilla
LeadsGorilla Works In Three Simple Steps:
Choose a Platform and Enter Any Keyword and Location
Choose whether you want to get agency clients from Facebook Pages, Facebook Places, or Google and then enter your keyword and location. LeadsGorilla will quickly find tons of prospects in seconds.
Generate Beautiful Print-On-Demand Optimization Lead Magnets
LeadsGorilla automatically generate gorgeous print-on-demand lead magnet report to send to them that includes all the ways they need to improve their GMB listing or Facebook listing to rank higher.
Land the Client with Email Marketing Technology
Finally, select the leads you want the software to contact for you. You can customize the email any way you want and use the DFY proven-to-convert INTEGRATED templates. These are available for different types of agencies if you only want to focus on selling one type of service i.e: video marketing, local marketing, digital marketing, web design and many others.
Checkout The LeadsGorilla Demo Video Below
PRO's & CON's Of LeadsGorilla
100% Newbie friendly & cloud based software (Nothing to install or download).
LeadsGorilla finds qualified & potential leads from both Facebook & Google.
Lets you generate Facebook & Google My Business Report.
Lets you download Print Ready PDF Facebook & PDF GMB Reports.
Custom secret LeadsScore algorithm technology allows you to see how likely you can land and close that lead.
Numerous filter options like GMB rating, LeadsScore, number of reviews, claimed or unclaimed GMB pages, and more.
LeadsGorilla is also backed by a 30-day money back guarantee.
The number of leads that you can search on Facebook & Google along with the number of leads that you can contact on a monthly basis is limited depending on the package that you choose. However, the optional LeadsGorilla Premium version upgrade gives you Unlimited freedom to search & contact Unlimited leads with much more extra benefits.
LeadsGorilla – Pricing And Funnel Details
NOTE: Here are some Upgrade Details for your reference. You must buy the Front-End (FE) first and then you could buy any OTOs if you love.
If you buy OTOs alone, you will receive NOTHING and it takes your time to request for refund. Please remember FE is a must-have package to at least make sure the product is working well.
OTO 1
$39/month - $49/quarter or DS to $19/month - $29/quarter
LeadsGorilla Premium/Premium Lite
⇒ Search Unlimited Leads.
⇒ Generate Unlimited Reports.
⇒ Contact Unlimited Leads.
⇒ Generate SEO Reports Module.
⇒ Download Print Ready SEO PDF Reports.
⇒ Customized Branding for Reports.
⇒ Edit / Customize All PDF Reports. 
⇒ Integrated PRO Email Templates.
⇒ Local Tools Module.
⇒ SEO Tools Module.
⇒ PRO Video Training.
⇒ Private Facebook Group.
⇒ Additional PRO "Small Reports" Local Schema, Contact Report, Yelp Report, Google Tag, SSL Certificate, Open Graph, WordPress Or Not Report.
⇒ Unreleased Academy Training (Local Genius Training) (Local & GMB, SEO, WordPress Module).
A citation analyzer and PDF reporting software. Help clients get more citations, improve reputation, and local SEO listings and show reports to them. 

⇒ LeadsGorilla Citations Finder Module.
⇒ Generate Citations PDF Reports.
⇒ Customize/Brand Citations PDF.
⇒ Export CSV with Citations.
⇒ Contact Leads With Citations Reports.
⇒ Free Resources & Tools List.
⇒ Citations Services Outsourcing Cheatsheet.
⇒ Generate Citation Reports for Individual/External URLs.
⇒ Export Missing Citations List.
LeadsGorilla Agency Advanced/Starter/Lite
In the Agency version of LeadsGorilla users will get the following allowing them to get their own local agency set up fast with everything DFY:

Features:

⇒ Manage Clients Module.
⇒ LeadsGorilla WordPress Agency.
⇒ Standalone One Click Install LOCAL SEO AGENCY.
⇒ No Technical Skills.
⇒ Easy to install and modify.
⇒ Local Bundle Pack.
⇒ Local Logo Pack.

Plus, you will get the LeadsGorilla Selling Suite that includes…

⇒ DFY FB Ads.
⇒ DFY Swipes.
⇒ DFY Teleswipes.
⇒ DFY Legal Contract.
⇒ DFY Google Banners.
OTO 4
100 License - $97 or 1000 Licenses - $197
LeadsGorilla Reseller Silver/Platinum
You get the opportunity to sell LeadsGorilla and pocket 100% of any sale you make. You will get training videos on how to actually sell it, ability to give access out, and the vendors take care of the support. Plus, tons of graphics and video to use, too..
LeadsGorilla is a total solution to be the local hero by finding qualified leads from Google & Facebook to monetize from. With various exclusive features such as LeadsScore Secret Algorithm Technology, ability to generate FB & Google Marketing Lead Reports, ability to Organize Campaigns & Manage Leads & Email Marketing Technology w/ Proven Swipes, LeadsGorilla makes your lead & revenue generation much easier.
LeadsGorilla aims at getting you potential leads with which you can generate consistent income without you having to do much work. LeadsGorilla does all the heavylifting for you. Right from finding leads to landing clients & closing the deal. All these without any in-person or telephonic contact. All you need to do is follow few simple steps with the help of built-in resources to build a successful local agency. Get Access NOW!!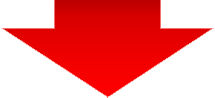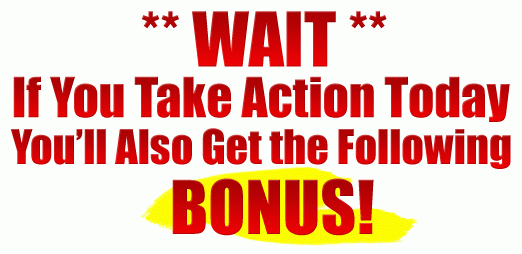 NOTE: Access To All The Bonuses Will Be Delivered In The Vendor Members Area
Bonus #1 – GMB Optimizer CheatSheet
One-stop guide that will hold your hand throughout the whole process of creating and optimizing a GMB listing. On top of this, you will learn how to leverage this essential service to build yourself a reliable income from LOCAL businesses.
Bonus #2 – The Complete Outsourcing Cheat Sheet for LOCAL
Learning how to outsource repetitive tasks is a skill that you absolutely need to master if you want to take your LOCAL consultancy business to the next level. This resource will teach you what to outsource, when to outsource and why to do it.
Bonus #3 – Optimizing 10-Key factors for Voice Ranking
Voice searches already account for over 50% of total searches on SERPs. If you want to tap into this MASSIVE Traffic Source, you need to focus and Optimize these 10 Key factors to land directly into the answer box of Google.
Bonus #4 – LOCAL Consulting 101 – Becoming a Client-Closing Machine
Knowing how to acquire clients is not a talent, it's an acquired skill. Use this resource to learn how to steer the conversation with a potential client towards the closing moment. This know-how is just as helpful online as it's offline (in face-to-face meetings).
Bonus #5 – 11 Practices to Boost Traffic w/ Local Search Marketing
Apply these 11 Internally-tested practices to obtain a healthy flow of LOCAL traffic to your own website or to your client's website.  Do this consistently and you'll ensure that you're sending the right signals to Google, Bing and the likes.
Bonus #6 – How to Close 5 New Local Clients in 14 Days
Uncover our "Secret Audit" technique that will allow you to spot major local optimization issues with only a few minutes of effort. If you have the right approach and access to a capable lead-finding tool like LeadsGorilla, signing your first client is a matter of days.
Bonus #7 – Email Swipes to Close Clients for Facebook Ads Services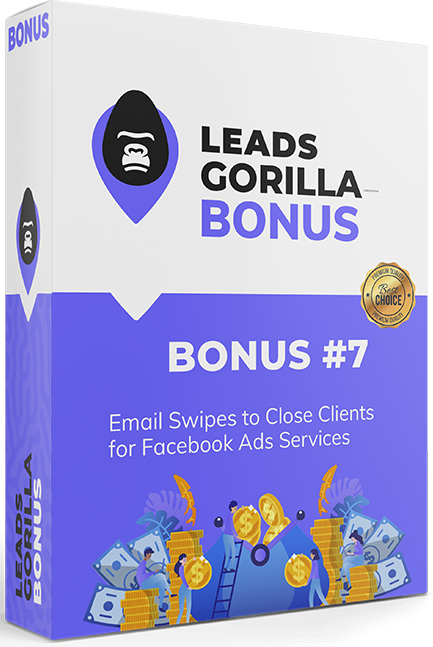 What you'll see in this is a collection of swipes arranged in a soap opera sequence. The purpose of them is to build up trust between you and the prospect up to the closing moment while establishing you as a valuable video consultant.
Bonus #8 – Facebook Optimizing Factors
The vendors have created a definitive list with factors that will definitely make a difference in how Facebook's algorithm will rank a particular listing. They've also included actionable tips that will help you optimize for each factor.
Bonus #9 – Top 100 Local Niches For Local Marketers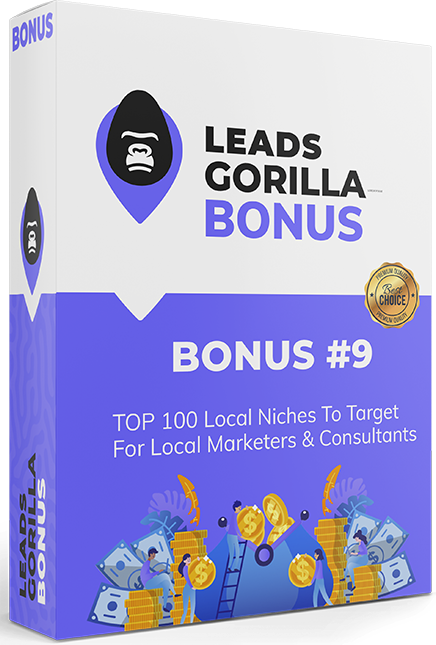 If you ever worked with local clients before or you are looking to get started this List will help you along your journey to find the best and profitable prospects to promote their business online.
Bonus #10 – Local Business Schema LeadsGorilla – WordPress Plugin
Improve your Local SEO in Sort Time. Getting 1st Position in Google Map. Getting more Calls, Store Visits from Google My Business Page. Set local schema rich snippets for each business using this WordPress plugin.
Bonus #11 – Reseller Rights to Stunning Transparent Image Suite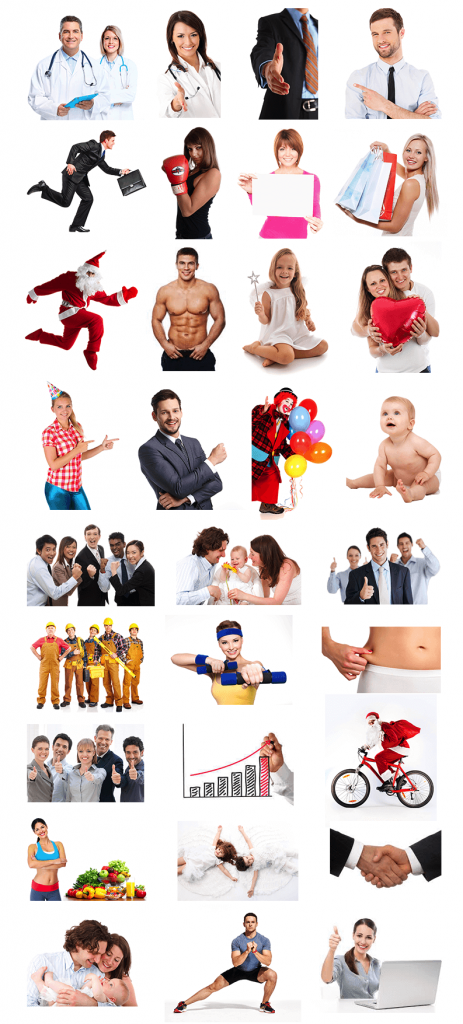 Get 500 premium TRANSPARENT photos to use in your videos, ads, sites, and more! Transparent photos can be added on top of any photo or inserted into any video fast and easy… and premium ones like these are hard to come buy.
Bonus #12 – Fastest Google Cache with Agency Rights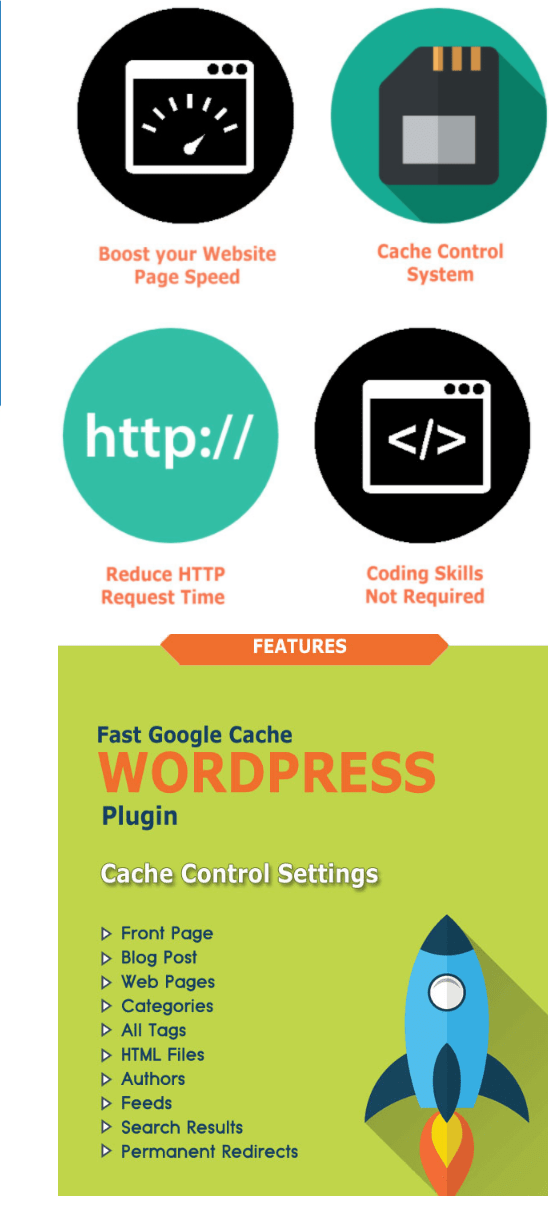 Easily double your Google page speed score with this ultimate caching plugin!
Page load speed is a CRUCIAL factor when determining how well your page converts and this super easy-to-use software will do just that.
Bonus #13 – Local Facebook Reviewer
Help your clients get and showcase their local FACEBOOK reviews!
Facebook is giving huge importance to reviews and page ratings now. In fact, if your Facebook reviews are low or negative your ads cost will significantly rise. Help your clients take advantage of this and get more customers to their business with Facebook reviews and this amazing software.
Bonus #14 – Commercial Rights to Video Lazy Loader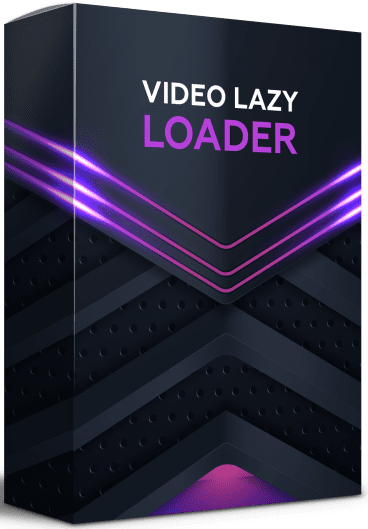 This video plugin is ESSENTIAL for today! It improves page load times and increases your Google PageSpeed Score. It replaces embedded Youtube and Vimeo videos with a clickable preview image.
Some Additional Features:

Pre-roll and post-roll advertisements: Convert all videos into a playlist and automatically add your corporate video, product teaser or another video advertisement to every video. (Great for branding and video ads!)
[+] Hide annotations like "subscribe to channel" to avoid distractions.

[+] Choose custom colour for your Vimeo player.

[+] Hide controls from Youtube player.
[+] Add schema.org markup to your Youtube and Vimeo videos.

[+] Hide information like the video title and uploader when the video starts playing.

[+] Choose thumbnail size (standard or cover).

[+] Choose from several "Play" buttons.
Bonus #15 – Commercial Rights to Slick Wp Page Builder
A slick WordPress page builder to build out customized sites right from within the dashboard!
[+] Comes With 30+ Content Elements
This WordPress Page builder comes packed with loads of content elements – you can start building your layouts in minutes with drag and drop features and with no coding experience. And it is very easy to extend.
[+] Lightning Fast Visual Builder
It is a speed champion and only WordPress drag and drop page builder with the instant user interface response – no more waiting and nail biting.
Bonus #16 – Whitelabel Local Real Estate Theme
Get this proper real estate website that makes a customer's search as easy as possible. The design is intuitively understandable, and includes a  simple search box, showcase a wide range of the real estate items available and makes your agency look professional and trustworthy!
Bonus #17 – Definitive Guide to Video Marketing for Local Businesses
VIDEO is the highest converting medium out there and it's increasingly more used in LOCAL Marketing campaigns. Go through this resource to find out why you need to include VIDEO in your marketing strategies and how to build yourself reliable income by helping Small Businesses with Video Services.
Bonus #18 – Ultimate Facebook And Social Media Blueprint
This One-Stop Blueprint includes everything you need to get started with Facebook Business Page Optimization – Use it for yourself or for your clients to get more Reach, better Visibility and better Engagement rates with your audience. 
Bonus #19 – Local SEO CheatSheet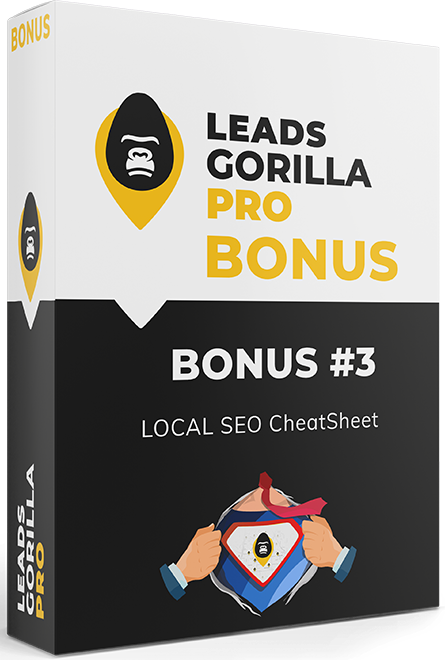 If you're looking for a one-stop resource that will walk you through the most important optimization steps in LOCAL, this is it. Think of it as a pocketbook for Online and Offline consultants.
Bonus #20 – 20 Client Attention Grabbing Facebook Messages Text Files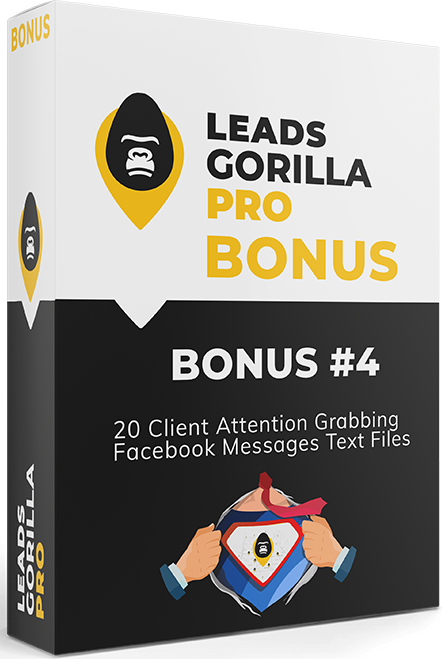 Use this client attention getting facebook messages to close more deals with businesses from Facebook. If you don't how how to compose messages and you are not talented, you can use these optimized messages.
Bonus #21 – The Hidden Power of Micro Commitments for Closing Local Businesses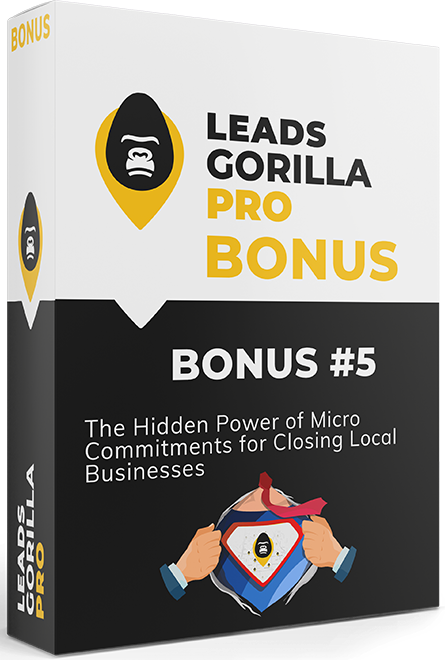 If you're not familiar with the term "micro commitments," it is a very powerful persuasion technique and consistency principle, which suggests people have a hard-wired desire to be consistent even after the original incentive or motivation is no longer present.
Bonus #22 – Ultimate Local Citation Profit System
Citations are the backbone of every successful campaign of making a business visible for LOCAL searches. This resource will show you HOW, WHY and WHERE to create & publish citations for ANY niche. You'll also learn how to identify bad citations, how to price your citation services and how to make a profit by fixing Local Citations for Small Businesses.
Bonus #23 – Google Local 3 Pack Ranking BlackBook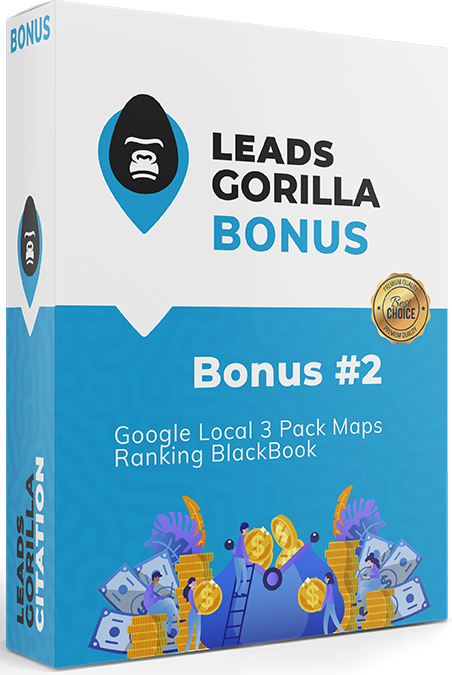 There are few things more sought-after for a local business than to get featured in the Local 3-Pack. Getting featured among the first 3 results in Google search results for a keyword might provide a business with more visibility than a 4-figure paid campaign.
Get Any OTO & Claim Access To The Below Versions of StopMotionSuite Software
Bonus #24 – StopMotionSuite Agency-Business 
StopMotionSuite is a cloud-based video creator that makes pro-looking stop motion videos from the built-in templates and drag-n-drop technology. You can also Repurpose Videos you've previously made with other editors into stop motion effect ones. Get far more out of a single video and make it more engaging.
With this access you get:
[+] Agency License and Technology Integration – $997 Value
[+] Add Unlimited Agency Clients – $697 Value
[+] Outsourcers License and Technology Integration – $497
[+] Add Unlimited Team Members – $297 Value
[+] DFY Reseller Rights Setup – $497 Value
[+] Reseller Material Access – $297 Value
[+] StopMotionSuite Scaling Resources – $197 Value
[+] Stop Motion Client Getting Tutorial – $497 Value
[+] StopMotion Video PPC Training
[+] StopMotion Script Writing Training – $497
Bonus #25 – StopMotionSuite Professional
With the PRO version of StopMotionSuite you get:
[+] Create Unlimited Videos with Unlimited Length
[+] Create Unlimited Campaigns with Unlimited Imports
[+] Super Deluxe Slow-Motion Effects
[+] Add Amazing Hyperlapse Effects
[+] Get 24 More DFY Templates in the Best Niches
[+] Text-to-Speech Technology
[+] VIP Rendering Time
[+] Render in 1920p HD
[+] Amazing Video Effects