"FunnelsBot" Review By SAASMantra
FunnelsBot is a brand new cloud-based software that captures your audiences' attention with stunning 'done for you' social media posts & bots with drag-n-drop ease without being a professional designer/writer/social media manager. With FunnelsBot you can communicate using built-in tricks for Google My Business, Facebook Messenger, and One Time Notifications Broadcasts.
FunnelsBot is loaded with multiple useful features such as the ability to post to social platforms, create powerful graphics, social sharing, Facebook & Instagram comment bot tools. You can either set a post for instant publishing or schedule a time for publishing.
You can even manage multiple Google my Business Accounts from one Dashboard to multiple locations, create and manage different kinds of campaigning posts (Call to action post, Events, offer), and much more…
Watch FunnelsBot In Action
(Note: The Link Goes Live on 08th September @ 11 am EST)
PRODUCT OVERVIEW
Product: FunnelsBot
Niche: Social Media Marketing
Vendors: Misan Morrison & Victor David
Launch Date: 2021-September-08
Launch Time: 11:00 a.m EST
Front-End Price: $27 – $37
Refund Policy: 30 Days Money Back Guarantee Policy
Support Desk: support@funnelsbot.com
Engage Your Audience & Drive Targeted Traffic In 3 Simple Steps
Login & Create Stunning Posts & Bots With Drag-n-Drop Ease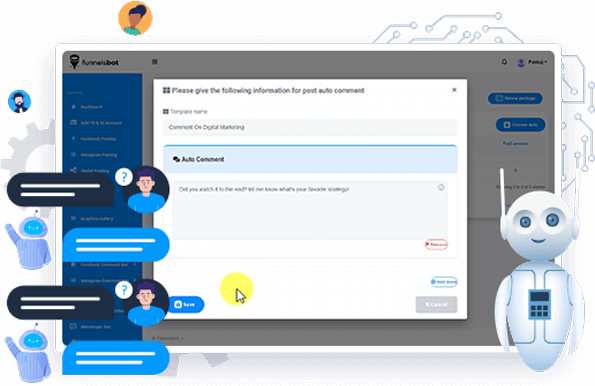 Engage Your Audience With Auto-Comments & Auto Private Reply
Effortlessly Engage Your Audience & Profit
Below Are Some Of The Features Of FunnelsBot
Post To Social Media
⇒ One-click bulk post to 7 social media.
⇒ Facebook, Twitter, LinkedIn, Reddit, medium, Blogger, WordPress.
⇒ Text, link, image & video posting.
⇒ Campaign scheduling.
⇒ Bulk Post Planner from CSV File.
Post To Facebook
⇒ Schedule/Instant Post to Your All Facebook Pages with a Single Click.
⇒ Text, Image, Multi-image, Video & Link Post.
⇒ Carousel & Slideshow Post.
⇒ CTA Button Post.
⇒ Periodic Re-Posting Ability.
⇒ Enable Auto Comment Reply Campaign With Post.
⇒ Full Report on Posting.
⇒ Emoji Library.
⇒ Leverage the most popular website on the planet.
Automate Pages
⇒ Search High converting and most popular pages.
⇒ Find all the contents.
⇒ 1 click to social syndication.
⇒ Share your content massively on autopilot.
Powerful Graphics Creator
⇒ Drag and Drop Editor.
⇒ 50+ DFY Eye-Catchy Templates.
⇒ Free Stock Videos.
⇒ Free Stock Images.
⇒ Text, Shape, Elements, Lower Thirds.
Social Sharing
20 Social Sharing Syndication.
Facebook Comment BOT
⇒ Auto Comment on Page Post as Page.
⇒ One-time & Periodic Comment.
⇒ Serial & Random Periodic Comment.
⇒ Auto Comment Template Management.
⇒ Emoji and spintax comment.
⇒ Choose Time & Date Interval of Comment.
⇒ Increase Page Engagement.
Instagram Comment BOT
⇒ Auto Comment Reply for Post Comment.
⇒ Keyword Filtering Word Based Comment Reply Option.
⇒ Manual Comment on Post.
Comment BOT Tools
⇒ Auto Private Reply for Post Comment.
⇒ Auto Private Reply with Template Message (image, video, buttons, quick reply, carousel, generic template).
⇒ Auto Comment Reply with Webhook as instant.
⇒ Auto Comment Reply for Post Comment.
⇒ Auto Like on Comment.
⇒ Dark Post Reply.
⇒ Reply Multi Image Post's Each Images.
⇒ Highly Customization Auto Private Reply & Comment Reply Text.
⇒ Filtering Word Based Auto Private Reply & Comment Reply Option.
⇒ Full Report of Auto Private Reply & Comment Reply.
⇒ Segment Subscribers.
⇒ Emoji and spintax message.
One Time Notification (OTN) Broadcasting
⇒ One Time Notification request button in bot settings.
⇒ One Time Notification Broadcasting after 24 hours.
⇒ Send Promotional Message.
⇒ Send Message with a template.
Google My Business
⇒ Manage multiple Google my Business Accounts from one Dashboard to multiple locations.
⇒ Create and manage different kinds of campaigning posts (Call to action post, Events, offer).
⇒ You can either set a post for instant publishing or schedule a time for publishing.
⇒ Reply to customers' questions instantly from inside the app.
⇒ Star-based reply to review.
⇒ Edit auto-replies at any time.
⇒ Auto or manual reply to reviews (by default, generic, or keyword).
⇒ Stats to show growth and state of all businesses.
⇒ Create coupons for direct purchase from Google search.
Who Is FunnelsBot Useful For?
Freelancers & Social Media Marketers
Product Vendors & Bloggers
Affiliate Marketers & Email Marketers
Video Marketers & YouTubers
eCom Marketers & Influencers
CPA Marketers & Lead Generation Experts
Watch A Quick Overview Of FunnelsBot
(Note: The Link Goes LIVE on 08th September @ 11 am EST)
FunnelsBot – Pricing And Funnel Details
NOTE: Here are some Upgrade Details for your reference. You must buy the Front-End (FE) first and then you could buy any OTOs if you love.
If you buy OTOs alone, you will receive NOTHING and it takes your time to request for refund. Please remember FE is a must-have package to at least make sure the product is working well.
FunnelsBot Deluxe Unlimited Edition
⇒ With this upgrade, you will unlock SMS,
⇒ Drag-n-Drop Facebook Messenger Chat Builder & EMAIL marketing tools inside your FunnelsBot Dashboard
⇒ Plus you get access to More ADVANCED Features, training boot camp & deluxe resources.
With this upgrade, you get a DFY Agency Business pack so you can start a 5-Figure social media agency business.
With this upgrade, you get a bundle of two (2) high-performance apps that will enhance the power of Funnelsbot.
OTO 4
$37/M, $97/Yr, $147/One-Time payment
Done For You Club Templates
You will get Done-For-You PREMIUM Chatbot Templates added to your account RIGHT AWAY + more every month.
FunnelsBot Developer License
You will get full limited Developer License Rights only during this launch special To sell FunnelsBot under your own brand, with your own logo & pocket 100% of all profits.
Automating your social media marketing is one of the best ways to grow the social media presence of your business or services. You can even schedule all your content, and have FunnelsBot post them for you at the right time with tons of features explained earlier that will boost your business growth. Get Started Now!
(Note: The Link Goes LIVE on 08th September @ 11 am EST)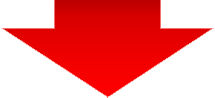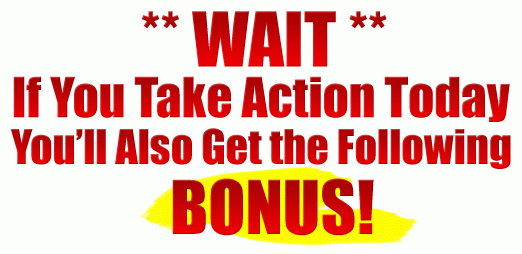 NOTE: Refer Your JVZoo Portal To Claim Access To The Special Bonuses
Bonus #1 – Soci Traffic Profits
This WordPress plugin adds posts from your WordPress website to your Facebook page in a separate tab within few minutes.
Tab containing all WP posts can be placed just after "About" in the top menu and just below the "About" section in the left sidebar (This is also with an icon image that gets more attention of users) on your Facebook Page. 
This will result in increasing the engagement on your Facebook page and sending direct free genuine traffic to your WordPress site. It shows multiple posts at a time which results in more chances that users may visit more than one page in the same session. You may also add the same WP posts to more than one Facebook Pages tab.

The BrandElevate software is a 4-in-1 Traffic suite that helps you find & create contracts with the influencers in your niche, build stores, help you edit your store images, and create tracking maps for detailed reports.
We all know what Influencer marketing is already… You might need to have a store or a website to host your products or showcase the services you intend to promote. The Mini Store Builder Tool built inside brand elevate gives you a solution for this.
It also comes with a Mini Image Editor to help you retouch your store images to present them in the most captivating way & in different sizes so that you can have a beautiful store/product catalogue.
Also, In Marketing we rely on data to tell us the performance of our campaigns, that is why BrandElevate comes with an in-built Tracking Map feature. With this, you can provide your Influencer with unique links in the form of tracking maps with which he can promote your products/services while you get to track important data like Unique Link Clicks, Visitors Location, etc.  
Brandelevate is a must-have marketing toolkit developed from scratch by a clique of 7-Figure marketers for marketers.
Here's a list of four powerful Features built into brandelevate:
⇒ Contract Manager (No Sign up required for your Influencers).
⇒ Mni Store Builder.
⇒ Mini Image Editor.
⇒ Tracking Maps.
Bonus #3 – RSS Traffic Bot
This is an innovative WordPress plug-in for your RSS feeds. What's amazing is that it increases your SALES AND BLOG audiences by converting your Blog RSS FEED into a deadly marketing weapon offering you greater control and flexibility. It tempts your RSS Feed readers to visit your blog without the slightest displeasure. Hence, 'Traffic From RSS To BLOG' is not just about getting massive traffic but about getting quality traffic to your site.
PLUS the plugin overcomes serious issues bloggers currently face today like blog content being stolen, RSS subscribers not returning to a blog, the difficulty of advertising on specific RSS FEED, No social share options within RSS Feeds, and many many more.
But now brush away all your worries as we bring you 'Traffic From RSS To BLOG'.
(Note: The Link Goes LIVE on 08th September @ 11 am EST)
Bonus #4 – Facebook Reviewer
This Facebook Reviewer Application is designed for brands or all those who want to get more reviews on branded products or deals or promotions on their pages and get users' engagement. Give more than one product to get reviews and ratings from fans in exchange for their email and other contact info. This is a very user-friendly application through which you can rate and review the post or products.
The specialty of this app is the customize-able interface to make it your brand identity. Once your fan writes a review for your product, it will be posted on his/her wall and thus spreads to his/her friends through this wall post; which will in return make the friend view your page and comment.
You can even customize the header image, content, and also headings which will be posted on the wall of your fan. Promote awareness of your brand, increase fan appreciation and collect contact information as they claim.
Bonus #5 – Comment Traffic Generator
Earn More Income, More Subscribers & Establish Healthy Relationship With Your Daily Blog Readers By Using Your WordPress Comment Box.
Introducing a WordPress plugin "Comment Traffic Generator".
"Comment Traffic Generator" is an advanced concept but simple and easy-to-use WordPress plugin capable of boosting your sales, traffic, subscribers list, and do much more by sending a thankful message to your first blog commentators.
Bonus #6 – Flashin' Order Buttons PRO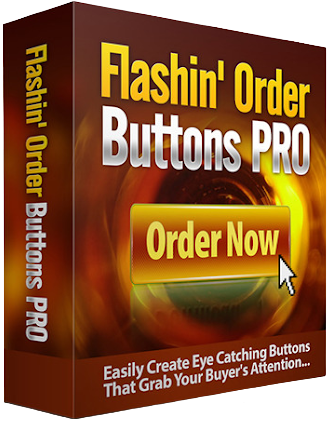 Easily Create Eye-Catching Buttons That Grab Your Buyers Attention!
What is traffic if they won't convert right? There are many factors why your audience won't buy from what you offer from your website.
And few of those factors is that your website might be ugly or not professionally created, not good product presentation, or simply your call to action button feature don't catch your audience's eyes.
The good news is that inside this product is an amazing piece of software that will easily create a flashing call to action button that will surely attract your website visitors' eyes.
This software is designed to be very easy to use. All you really have to do is fill in information the way you would do when you are filling out any other form. Simply follow the instructions in the software filling in the required information as you go.
(Note: The Link Goes LIVE on 08th September @ 11 am EST)
Bonus #7 – Clickable Images Bot & Tracker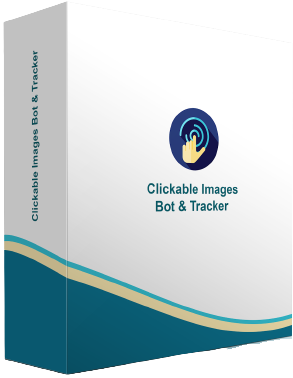 This is a social media marketing application to post clickable images with your link, title & description on Facebook, Twitter, Pinterest, Tumblr, and LinkedIn with a built-in click tracker. It's a traffic generator application that allows you to drive traffic to your website from 5 popular social media networks.
As you know Facebook has stopped posting links with custom images, titles as well as other social media, but this comes with the solution to post a custom image with your links.
It's a multi-user SaaS application means you can resell the Software as a Service. PayPal & Stripe are integrated so that you can receive payment from your end users.
This is an online social tracking tool that gives you the extraordinary ability to track your social activities from unlimited social networks accounts (Including YouTube, Twitter, Instagram, Twitch, Tumblr) including day by day tracking, premium accounts, top lists, favorites system, and a beautiful and complex admin panel that you can manage the whole website with.
It also comes with a Paypal and Stripe payment gateway so that your users can purchase benefits from your website.
Bonus #9 – Instant Content Creator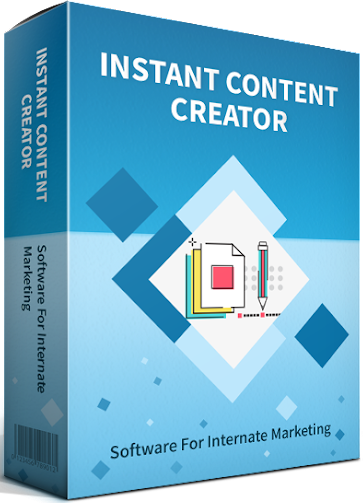 Inside this package, I am giving you amazing software that will help you make killer articles that will boost your profits quickly and effectively. Ultimately, you can engage more and more people, and get them attracted to your offers.
(Note: The Link Goes LIVE on 08th September @ 11 am EST)
Bonus #10 – Branding Secrets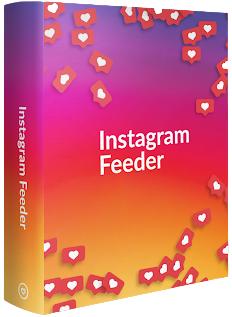 Instafeeder is a premium WordPress Instagram feed for creating charming galleries of Instagram images. Take the advantage of an all-new multipurpose responsive Instagram feed for displaying various photos from Instagram with a great number of possibilities to determine necessary resources and to set up additional filters.
This is a revolutionary social share plugin for WordPress. It's a complete elegant experience of a social media WordPress plugin that will help you to increase shares and traffic and grow your sales in the extreme way ShareBang supports +42 of the major social networks including the mobile applications nowadays heavy usage like Whatsapp, Facebook Messanger, Telegram, Skype, Line, Viber and more.
Bonus #12 – 100 Editable Logos
With this, you just need to choose among the editable logo to complete your online presence, build your own brand which makes viewers remember who you are. Best of all, you don't need to have any graphic design experience to make your own logo that you can be proud of.
So, choose the one that looks good and leaves a good impression on your potential customers, that's it!
(Note: The Link Goes LIVE on 08th September @ 11 am EST)
Bonus #13 – LinkedIn Auto Post Machine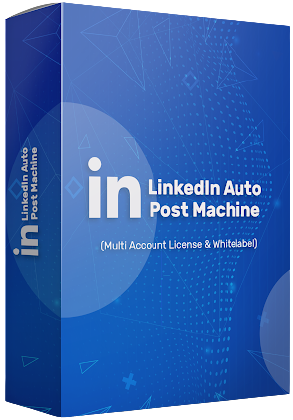 With just a few clicks you can create a promotion campaign on LinkedIn with many features available on the script that will certainly give you a great experience.
Features:
⇒ Support multi LinkedIn accounts: helping you advertise more comprehensive
⇒ Report posts: the statistical success rate of the posts.
⇒ Repost post: lets you automatically post back every day without having to post back.
⇒ Random post: automatically selects a random profile to post in a specified time.
⇒ Support multi language: makes it easy to access and use the product thoroughly.
⇒ Easy customization and multi themes: helping you have more choices for the management interface to suit you.
⇒ Support multi-users: not only can you manage that you can share it with everyone you want.
Bonus #14 – WP Instagram Auto Poster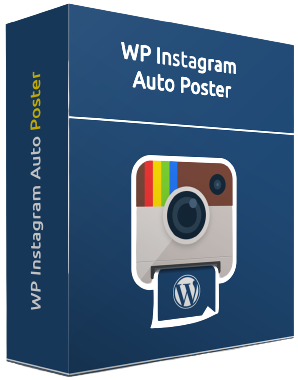 This is a premium customized WordPress Instagram Plugin that helps to exclude the manual work of posting from WordPress to Instagram. 
The plugin can help you post videos and images automatically from WordPress to your Instagram account. 
It supports WooCommerce Product, WordPress Page, WordPress Post. No need for API ID and APP Secret.
Bonus #15 – Influencer Marketing
Influencer marketing is one of the best ways to quickly build your brand online and raise awareness among your target audience. The best thing is that you don't need a large following or any previous experience in advertising. You can easily become a well-paid influencer with just a few thousand followers. 
Keeping this in mind, here's a helpful guide that helps to learn what top influencers are doing to secure profitable partnerships and how they set themselves up for ongoing success.
Bonus #16 – Swipe File Of Best Performing Sales Letters (Value: $197)
You also get a swipe file breaking down and tearing apart some of the best performing sales letters and showing you WHY they worked so you can reverse engineer their success…
(Note: The Link Goes LIVE on 08th September @ 11 am EST)
Bonus #17 – Lifetime Access to Premium 15-in-1 Youtube Marketing Suite (Value: $197)
This is a premium 15-in-1 youtube marketing suite containing the best set of tools I & my team have been using internally for the past 3 months to increase our video views on youtube, grow our youtube channels in different niches and drive free organic buyers traffic to our offers steadily.
This particular software has produced more results than any other youtube marketing tool we have adopted in recent times…
Imagine getting a complete bundle collection of the best marketing tools for YouTube videos such as Tags generator, youtube to mp3 converter, thumbnails generator e.t.c. so please do not consider this freebie as a cheap giveaway!
Bonus #18 – Free Ownership Of A Premium Custom-Made Software For Creating Attractive Logo For Your Brand (Value: $247)
With the right logo, potential customers are instantly attracted to your brand pages on social media. 
You can create attractive logos with this app and include them in your posts and campaigns made with FunnelsBot to increase your click-throughs and boost your leads and sales.
Plus you can create professional eye-catching logos and sell them to local businesses for $300 to $500.
This also comes with a unique built-in "artificial intelligence" engine that automatically finds the relevant icons, images & fonts and then generates dozens of variations of your logos in minutes. Select the one you like and download!
Bonus #19 – Full Ownership Of A Premium Custom-Made Software For Finding Most Profitable FB AD Campaigns (Value: $247)
Instantly find all the most profitable FB ads and campaigns using this powerful campaign copier. Clone them without spending hours on research or copywriting and get the maximum result on your campaigns.
With this app, you are already on the fast track to success because you save time and energy while being certain of high converting FB ads and video ads!
Replicate and create the hot and trending campaigns inside FunnelsBot within minutes and get maximum results!
Bonus #20 – Full Ownership Of A Premium Custom-Made Software For "Creating Digital Order Menus" on Whatsapp (Value: $197)
Did you know that there are over 2 BILLION whatsapp users and WhatsApp is available in more than 180 countries and 60 different languages?
Does this mean that the majority of your customers and your client's customers are moving around with WhatsApp installed on their handheld devices?
The good news is that you can use this software to create a digital menu for you or for any client so their customers can order from them via WhatsApp right on their Mobile phones.
In the era of covid, local businesses like restaurants need modern and clean solutions for their traditional way of working.
Being closer to their customer is a game-changer.
With this tool, you can create both a digital menu and a QR for any local business.
Next, the customer goes to the menu, makes the order, and sends the order on WhatsApp.
How cool is that?
(Note: The Link Goes LIVE on 08th September @ 11 am EST)